[
Return to Main Page
] [
Return to Projects Index
] [
Doc's Machine & TWB Store
] [
Contact Us
] [
The Whiteboard Webcomic
]
Repainting The Logan Lathe Cabinet for Coolant, Part 1: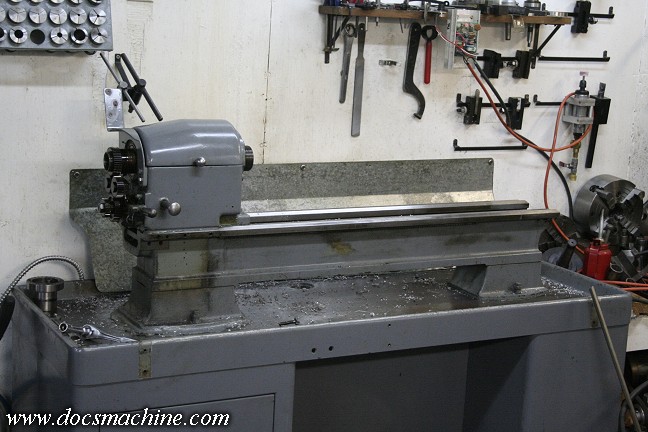 After adding flood coolant to the Logan, I'd discovered the fluid was softening and lifting the paint
on the catch tray- not a huge issue, and didn't really affect anything, but I still didn't like it.
So once again, I stripped off the movables, getting it down to the basic parts.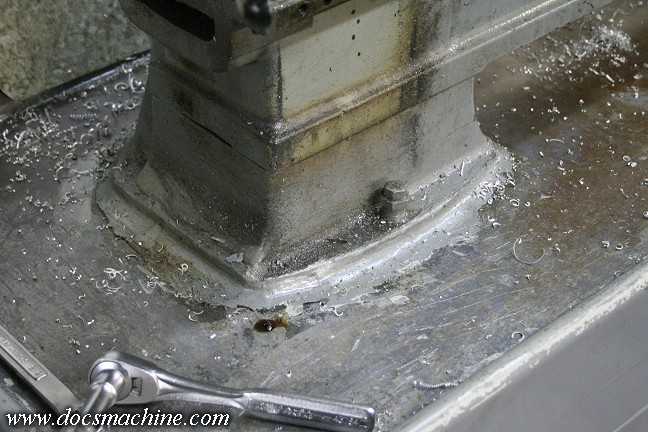 The lathe had already been "potted" in place- sealed against coolant- since it had started life, all those
years ago, as a factory turret lathe. I'd thought the sealant was still good, but after using coolant,
I'd note that a spot or two of the sealed edge would still "weep" a bit at times.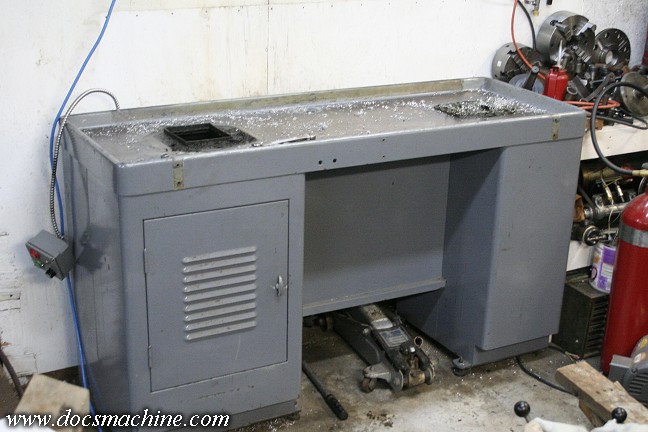 I'd brought in a floor jack, thinking I might need to break the sealant loose, but as it turned out,
the sealant had already long since lost adhesion. Note the 'chimney' around the belt hole, much
like I just added to the Sheldon's drip tray earlier that summer.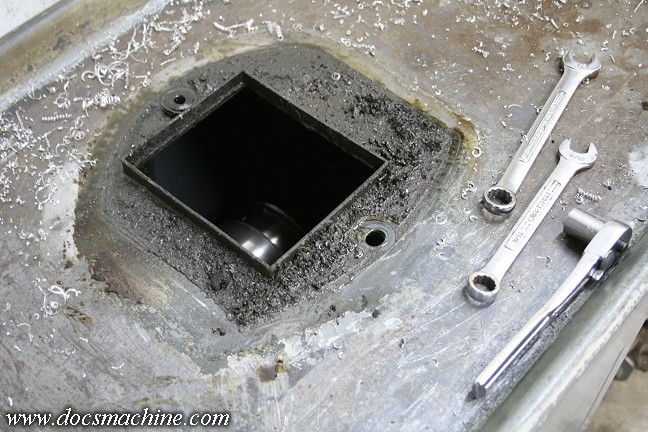 Inside the base casting was, of course, lots of oily residue, chips and other grunge,
but it all in all, it never leaked a drop down onto the belt drive or motor.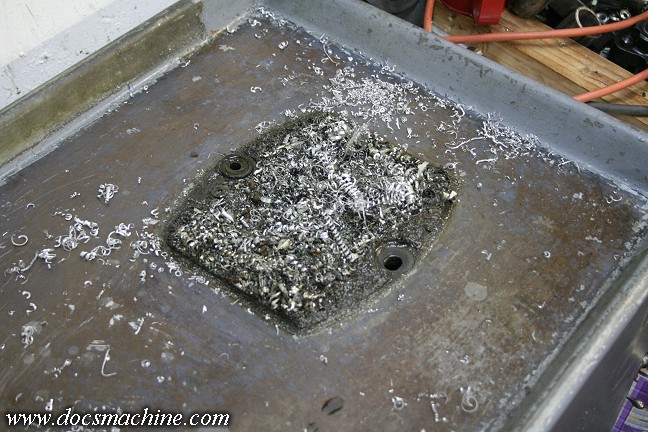 The tailstock end base was about the same- they hadn't bothered to seal it at all (except for the bolt holes)
so it'd collected a lot of residue, in addition to the chips and gunk that could fall in from the top of the bed.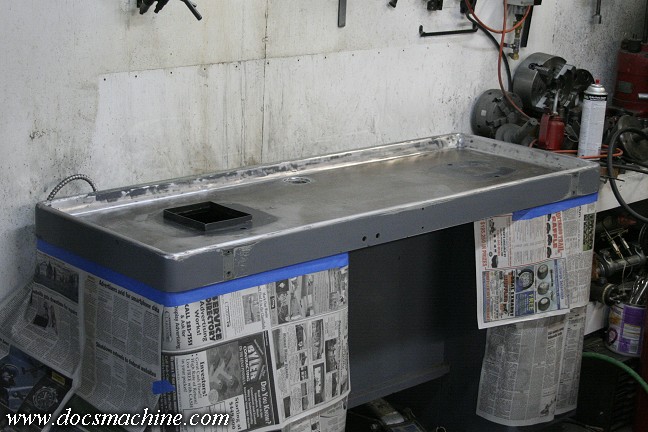 The actual painting part, however, was easy; I scraped what I could with a razor blade, sanded the rest, masked it off...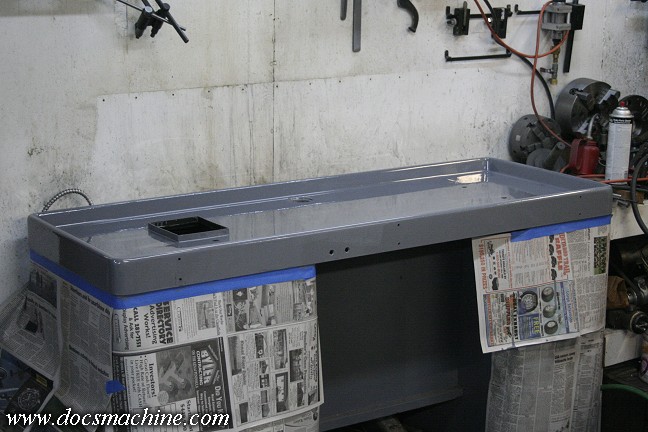 ... And hit it with some POR-15, which is an "anti rust" paint often used on car frames and suspension parts.
It's hard and chip-resistant, and supposedly resistant to any known solvent. That's in their actual product
description, though I assume they mean any known common solvent, like paint thinner, gasoline, brake
cleaner, etc. I'm sure if I dripped some hydrofluoric acid on there, it'll lift. But it's supposedly resistant
even to methylene chloride paint strippers and battery acid, so while I haven't yet performed any tests,
I'm reasonably confident it'll stand up to the coolant.
Oh, and generally, POR-15 is black. That's the original and most common color. But I found out it comes
in grey as well, though it's a somewhat lighter shade that I wanted. So I tried adding some black P-15
to darken it a bit- the mix was very close to the same shade as the lathe, but when the paint cured/dried,
it darkened noticibly. Not too bad, it's still a decent match, but I should have experimented more first.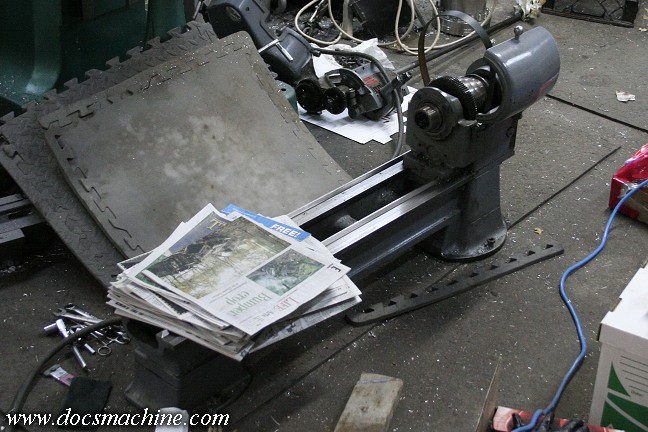 On the lathe itself, I hadn't planned on doing much more than a quick cleaning, and painting the bases,
but the ease in which the old sealant popped off, and showed signs of having lost it's adhesion long ago,
I decided I'd also pop the headstock off the base and maybe reseal it too.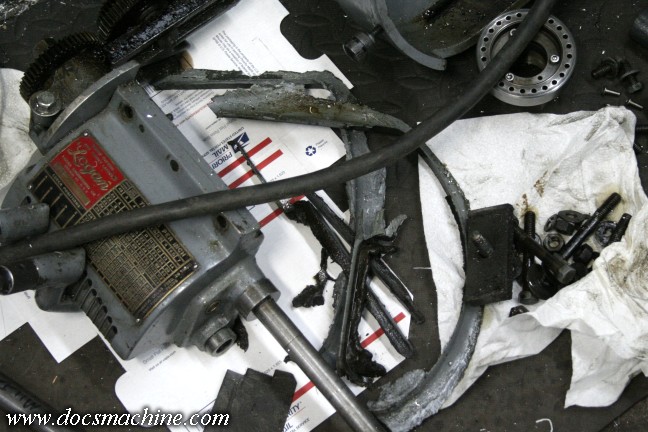 I don't know what the old sealant is, exactly, but it looks and feels like JB Weld or a similar
dark-colored epoxy. It's not flexible, and snaps with relative ease. Here's some of the
leftover bits, which popped right off with minimal effort.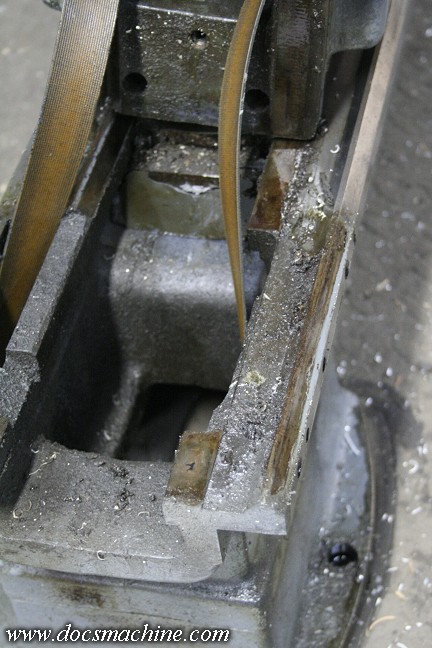 Under the headstock showed more signs the adhesive had failed, and had more chips, residue and gunk.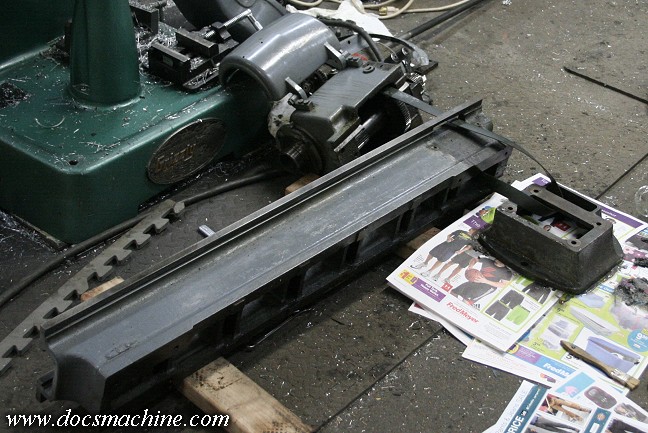 Unfortunately, it was also about then I discovered that the drive belt actually ran through- and around- all three pieces.
Clearly it had been cut, installed in place, and then glued/vulcanized back together, tying the headstock, bed and base
casting all together. I wasn't about to cut or damage it, so I had to work around it... right there on the floor, as I
had no bench space that could hold all three pieces closely together. Anyway, as I said, I'd really only planned
to paint the bases, as nothing else really "soaked" in the coolant long enough to soften significantly.
>

All text, photos and graphics Copyright 1998- 2017, Doc's Machine & Airsmith Services. All Rights Reserved.
Information contained in these pages is for reference and entertainment purposes only. Our methods are not always the best,
quickest, safest, or even the correct ones. It's up to you to know how to use your own machines and tools.
Keep your fingers away from the spinny blades o' death and you should be all right.